Prague is a fairy-tale town of magical beauty sitting at the very hearth of Europe.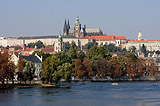 Frequently it is said to be difficult or even impossible to admire it fully in the course of several days only. Even more intricate is thus trying to introduce it using nothing but a couple of words.
Architectonic treasures…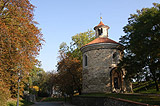 Should I attempt to preface the city of a hundred spires, its lovely architecture cannot be forgotten. Search in your memory for a name of any style you can think of. Prague will almost certainly have some landmark to offer – be it from hundreds of years ago such as Romanesque rotunda or from numerous eras spanning centuries. The latter can be represented by the picturesque Prague Castle with its truly magnificent St Vitus's Cathedral or the tiny (and that is probably one of the reasons why) fairy-tale like Golden Lane. The same applies to architectonic landmarks "remembering" merely several decades such as the precious Cubist pearls scattered here and there in Prague's winding streets.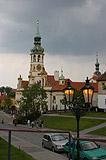 On the one hand, there are countless captivating churches including the Loreto or the Church of St Nicholas (here you actually get "double" beauty as there are two of them – one embellishes the Old Town whereas the other one successfully adds glamour to the Lesser Town). On the other hand, you can try to hunt down the treasures hidden in the Jewish Quarter or visit some of the monasteries such as Strahov Monastry or its Breznov colleague.
Busy life and calm oases…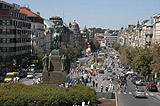 After starting to feel satiated with the tranquillity of the above-listed places, you can experience the true buzz of the city life in Wenceslas Square or in its Old Town counterpart. Once the pulsing of the metropolis becomes a little bit too tiring, why not to take refuge in a park or go for a walk through one of Prague's gardens – for instance, those ones underneath the castle? An absolute must on any tourist's list is also Petrin park with its dominant observation tower sitting majestically on top of Petrin Hill. But do be careful not to mistake it for its bigger sister – the Eiffel Tower in Paris.
Wow! Look at the view…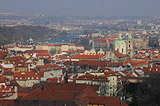 Having reached the top, there is a great opportunity to catch your breath whilst observing from bird's perspective, what has been forgotten on your itinerary. How could have we left out the picturesque National Theatre or the no less beautiful National Museum? Not to mention Rudolfinum – "the House of Artists". What about the manifold palaces with precious art galleries within them and beautiful gardens all around? Indeed, the list seems endless.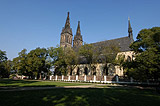 To make sure you do not miss any of Prague's main treasures, I would recommend to repeat the bird's-view-exercise with the "castle on the heights" – Vysehrad. Here the ever-present legends mixed with ancient myths seem just as palpable as the dominant of the rocky hill – the Church of St Peter and St Paul. No wonder – we are talking here after all about the very first seat of Czech princes and kings.
Feel the mysterious atmosphere…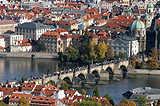 The renowned Charles Bridge requires no introducing and indisputably also deserves to receive a big tick on the what-to-do-and-see list. Not only is this historical jewel simply beautiful but its statues can make your wishes come true. Do not have any doubts, once you experience the mystical atmosphere of narrow streets and feel the cobble stones underneath your feet, you will believe that Prague is truly magical.
It only remains to wish you lovely exploration. I am fully convinced that during your sightseeing tour Golden Prague will cast its spell on you as it has been doing to visitors for many years and is sure to continue doing to everyone that passes its invisible gates for many years to come.