First mention about the New Town Hall in Charles Square dates to 1377, but not much was left from the building from that time. Several parts were added at the beginning of the 15th century, the most noticeable one is the high tower with a big bell and a chapel inside. The wing facing the Charles Square used to contain conference rooms, the wing to the Vodickova street offices and a prison.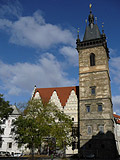 The New Town Hall served its original purpose as a seat of the municipal administration until 1784 when the Emperor Josef II. decided to connect the four Prague towns – Old Town, the Lesser Town, Hradcany and the New Town – into one with one town council. After that the New Town Hall was adjusted into a criminal courthouse and a prison with a torture chamber. Many people, especially revolutionaries, were kept here.
The appearance of the building changed rapidly in the 16th century. The south wing was rebuilt in Renaissance style and it was decorated with high gables. Notice a piece of chain that is fixed to the building. It is from the times when Prague streets were closed by chains.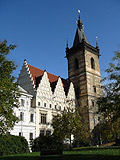 The New Town Hall became very famous for the event that happened in the 15th century. On 30th July 1419 a crowd of demonstrators lead by Jan Zelivsky demanded that several Jan Hus's followers should be released from the prison. When the councillors refused to release the prisoners, the outraged crowd burst into the building and threw the present councillors out of the windows. The councillors who survived the fall were beaten to death. This event called the First Prague Defenestration started the Hussite movement asking for reforms in the Catholic Church.
The New Town Hall is a national culture heritage now. It is used for many cultural and social events, as well as wedding ceremonies.
Address:
Karlovo namesti 23, Prague 2
How to get there:
The New Town Hall is located in the northern part of the Charles Square. You can get there by metro yellow line B, station Karlovo namesti.
For more pictures see New Town Hall Photo Gallery