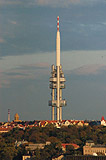 It's often said that Prague is a city of hundred spires. There are many places you can proved this saying to be true, places such as Prague Castle or Petrin Tower. But none of the places is higher than Zizkov Television Tower. And don't worry about the steps, two speedy lifts will take you just to the top cabins with a stunning panoramic view of the city.
Zizkov Television Tower was built in the 1984-89. It provides not only the devices for transforming TV signal, that covers a wide territory, but it also offers three cabins in the height of 93 meters and a restaurant with a view of the city in the height of 66 meters. If you are lucky with the weather you can see objects at the distance of 100 kilometers.
The Zizkov Television Tower is not only the highest construction in Prague but it is also the highest tower in the Czech Republic (260 meters) You can see many historical buildings and compare your knowledge of the city and its sights with the maps that are spread on the upper floor.
For those who are interested in numbers, the complete Zizkov Television Tower weights 11 800 tons, the highest points is 474 meters above the sea level. The lifts can reach the top at the speed of 4 m/s and the parking area underneath the tower is designed for 70 cars.
There is also another thing that makes the tower special.10 huge babies climbing the tower were created by sculptor David Cerny. They were put on the tower for the first time on 29th May 2000 and became immediately popular.
Address:
Mahlerovy sady 1, Prague 3 – Zizkov
How to get there:
The closest stops are metro station and tram stop Jiriho z Podebrad (metro green line A and tram no. 11). From the city centre you can also go by tram no. 9 to stop Lipanska.
Opening hours:
Open daily from 10:00 to 23:30.
Entrance fee:
Full 150 CZK, student 120 CZK, family 120 CZK children 6 – 14 years old 60 CZK, children below 6 and disable people gratis, groups (21 people and more) 50 CZK/person
Possible discounts:
 repeated entrance (after you show the ticket from your last visit) 120 CZK,
 permanent ticket for the whole year 500 CZK
 reduced entrance (without the information brochure)
 5% discount in the restaurant after showing the receipt of the ticket (60 CZK, 120 CZK, 150 CZK)
Click here to see more pictures of Zizkov.