The name Josefov comes from the emperor Josef II, whose reforms improved the living conditions for the Jewish in Prague. The Jewish Quarter lies between the right bank of the Vltava River and the Old Town Square. It contains the remains of Prague's former Jewish ghetto, with its multitude of legends about the mystical Golem and the spirit of Franz Kafka (1883 – 1924).
The Jewish Museum is a complex of buildings from the former Jewish Quarter.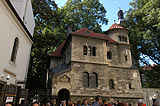 The Jewish Museum in Prague has one of the most extensive collections of Jewish art, textiles and silver in the world; there are 40,000 exhibits and 100,000 books. The collection is unique, everything in the museum was gathered from Bohemia and Moravia and evokes the Jewish history and a valuable heritage for the present Czech Republic.
The ticket you get from the museum covers a guided visit of the Ceremonial Hall, Old Jewish Cemetery, The Old-New Synagogue, the Pinkas Synagogue, the Klausen Synagogue, the Spanish Synagogue and Meisel Synagogue.
Phone:
Web: