Founded in 1479 by Rabbi Pinkas, one of the Jewish community wealthy member, it is now one of the memorials to the victims of the Holocaust.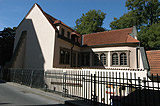 After the WW II, names of the 77,297 Jewish Czechoslovak victims of the Nazis were written on the synagogue's walls to keep forever the names of the Jews who did not survive the camp in Terezin. Madeline Albright, Prague's "most powerful daughter" visited the synagogue in 1997 to see the proof that her parental grandfathers (Arnost Koerbel and Olga Koerbelova) were victims of the Holocaust.
There is also a collection of paintings and drawings by children held in the Terezín concentration camp during WW II. Other interesting testimonies of the past kept in the synagogue are the women gallery from the 17th century and the medieval ritual bath discovered in the ghetto.
Address:
Getting there:
Underground to "Staromestska" (green A line) or trams 17, 18 to "Staromestska".