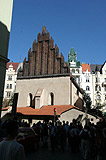 If you are already in the centre of Prague, it would be a pity to miss out one of the best parts of the Jewish Quarter that is the Old-New Synagogue, as it is the oldest working synagogue in Europe and one of Prague's earliest Gothic buildings (it was built around 1270).
You will certainly be impressed by the Holy Ark from the eastern wall, in which the Torah sacred scrolls are kept and by the Hebrew biblical abbreviations covering the walls.
The Synagogue's activity has an impressing history of more than 700 years, having been interrupted only between 1941 and 1945 because of the Nazi occupation.
It is now opened for public every day except Saturdays and Jewish Holidays.
Old or new?
....confusing, isn't it? Come to think of it, not really confusing at all. The name comes from the fact that when the synagogue was built (around 1260 AD) there already existed one such place of worship, so this one had to be called the New synagogue. Unfortunately the former old synagogue was later destroyed so, as years passed, our synagogue became old. Well, it became the Old-New Synagogue. :)
Address:
Pariska and Cervena Str., Prague 1
Getting there:
Underground to "Staromestska" ( green A line) or trams 17, 18 to "Staromestska".
Head towards the Law Faculty (Pravnicka faculta)