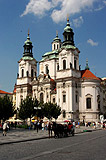 Climate
The climate in Prague, as well as in the whole Czech Republic is temperate, a mixture of oceanic and continental. The average winter temperature is 5 degrees C, average summer temperature is 20 Celsius degrees.
Weather
Prague is a city that remains beautiful and breathtaking not only during the summer, but throughout all the year seasons. For the actual information on weather forecasts please visit Prague 7 days weather forecast
Language
The official language is of course Czech, a very beautiful, yet quite difficult to learn Slavic language. In main tourist attractions English/German/Spanish is spoken. Nevertheless, you might find it useful to take a look at our mini phrasebook. You never know when you will need to say "help" or "thank you".....
Prague news portals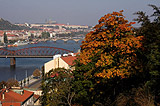 In case you are an information devourer and like to be up to date in what Prague is concerned, we recommend the Abc Prague News with their events calendar and the Radio Prague. Once there, you can chose to take a look at the new magazine, learn a few things about the Czech language with their nice ABC of Czech, learn about Czech science, culture, history and why not listen to live radio shows and music.
Public phones
Public phones are almost everywhere in Prague. In order to use most of them you will need a telephone card that can be purchased from any newspaper or cigarette stand. The value of the cards varies from 100 to 200 CZK (from 3 to 7 EUR). From place to place there are also phone boots that work on coins (2, 5, 10, 20 CZK).
Public holidays
State holidays:
1st of January – Day of Renovation of the Independent Czech State
8th of May – Liberation Day (1945)
5th of July – Cyril and Methodius Day – the Slavic Christianity Prophets
6th of July – Master John Hus burning at the stake (1415)
28th of September – Day of the Czech Statehood
28th of October – Independent Czechoslovak State Proclamation Day (1918)
17th of November – Day of a Struggle for Liberty and Democracy
Other holidays:
1st of January – New Year's Day
Easter Monday
1st of May – Labour Day (May Day)
24th of December – Christmas Eve
25th of December – Christmas Day
26th of December – Boxing Day
Currency – currency exchange
Czech Crown – Czech symbol "Kc", international symbol "CZK"
1 CZK = 100 haler, Czech symbol "h"
Coins: 50h and 1, 2, 5, 10, 20, 50 CZK
In most shops credit cards are accepted, in shopping centres is not unusual to pay also in Euro, British pounds or dollars – the change will be returned in CZK.
Tipping
Like almost everywhere in the world, tipping is a usual practice in the Czech Republic too. The international standards (10-12%) is of course welcomed, no waiter will look weird at you though if for example you round off a bill of 285 CZK to 300 CZK… Nobody expects you to bring your calculator along to the restaurant and count exactely 12% or more… You are a tourist, so feel like, don't worry about tips!
Postal service
Postal service is well represented in Prague. You can find a post office starting from the airport up to the Prague Castle. The orange post office boxes in Prague are emptied every day.
Domestic Letters/Postcards: 7.50 CZK
International Letters/Postcards: Europe 9 CZK – Overseas CZK
The busiest and biggest post office is Main Post Office, Prague 1 (Ceská posta – Posta Prague 1 – Hlavní posta) Jindrisská 909/14, Prague 1 – New Town110 00, open from 2:00 to 24:00 hrs.
Phone: +420 221 131 111
E-mail: info@info.cpost.cz
Web: www.cpost.cz
Local time
Central European (GMT+1),
Area
Population
1,173,000 people (not counting tourists, immigrants, short/term workers…-)