100 Czech crown banknote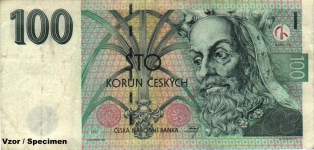 On the 100 CZK banknote there is Charles IV (1316-1378), Holy Roman Emperor and King of Bohemia who is regarded by Czechs as "Father of the Country". Prague as it looks now owes a lot to him.
As he was fond of Prague, art and architecture in Bohemia flourished in his time. Many building projects were started during Charles' reign, including the St. Vitus Cathedral, Prague's New Town, the Charles University, and of course the Charles Bridge. Without Charles IV there would be a totally different city.
Charles IV established Prague as the cultural capital of central Europe and made it one of the most prosperous European cities at the time. He loved Prague although he was raised mostly in France. His whole life he spent concentrating his energy on development of this city.
He was well educated and could speak fluently five languages – Latin, Czech, German, French and Italian! Interesting thing is – what most people don't even know – that he was born in Prague as Wenceslas but later chose for his confirmation name Charles. He married four times in his life.
On the other side of the banknote there is Charles IV kneeling in front of the St. Wenceslas, the patron saint of the Czech nation – the man on the horse on the Wencelsas Square. The banknote is green.
See also Czech crown – the currency in the Czech Republic.