Aug 8, 12:50 Filed under prague-walks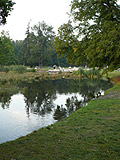 Stromovka is a wonderful park not far from the city centre. It offers a piece of nature in a beautiful, but sometimes too crowded and busy city of Prague. A place where both Prague inhabitants and visitors can relax for a while, enjoying nature. This could be appreciated especially in those hot summer months, when staying in the city for a long time sometimes becomes too much annoying.
The park has quite significant name – Stromovka is a word, which is derived from "strom", which means a tree in Czech language. There are plenty of trees, but there is also a lot of grass, and some pretty flowers are cultivated here as well. The park is pretty popular among Prague people, especially during weekends lots of people come here to do sports and relax. You can see here many in-line skaters and bikers; there are even special pathways for them. Also many runners and walkers come to enjoy the park, and obviously – dog walkers, as it's the ideal place, where their pets can run a bit. And, on the list of visitors cannot be omitted families with kids, from those walking around with small babies in prams to those who has bigger kids, who are enjoying one of children's playgrounds or bit of biking or inline-skating.
As Stromovka park is pretty big, it is obvious, that it is accessible from different places. And on both "main ends", there are refreshments places, where you can get some beer, but also non-alcoholic drinks or some food. In one end, in Bubenec, it is quite a famous pub/restaurant Na Slamniku. On the other end, which is by Vystaviste-exhibiting area, there is also a place where can be bought drinks and some "fast-food", it is only outdoors, but it should not matter that much during summer months and you also works as a "take-away", so you can ask for beer or other drink in a plastic cap and enjoy it deeper in the park. But be aware, now there is a new law about drinking alcoholic beverages in public places in the Czech Republic, so if you want to take your drink away, better buy something non-alcoholic or be careful.