Name in different languages:
Karluv most | Charles Bridge | Karlsbrücke | Pont Charles | Ponte di Carlo | Puente de Carlos | Kaarlen Silta |Podul Carol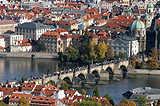 As peaceful and romantic it may seem, the Vtlava (Moldau) River has not always been as calm as it looks today. It's fury, combined with the power of heavy rains have many times flooded and destroyed the bridges people built over it. Charles Bridge is no exception. It has many times been the victim of floods and natural or human created calamities. Nevertheless, it is still standing and hopefully it will remain a symbol of Prague far after we are gone.
In the place that Charles Bridge is standing today once stood a wooden bridge, destroyed by floods in the 11th century. In its place, in 1172, Wenceslas I ordered the building of the Judith Bridge (after his wife's name), the first stone bridge to connect the Vltava banks. The Judith Bridge collapsed in a flood in 1342.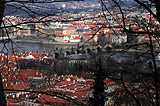 The construction of the bridge as we can see it today dates from the reign of Charles IV, King of Bohemia and Holy Roman Emperor. Legend has it that he had everything thought of up to the smallest detail. The oddest thing may seem the very date of its foundation: 5:31 am, 9. 07. 1357 (9th of June). Only odd digits (1, 3, 5, 7, 9) and what's more, except 9 all prime numbers….. Another unusual thing is that it is said that egg yolks were used to strengthen the mortar used to bind the stone blocks. Although the saying cannot be verified, modern laboratory tests have indeed proved inorganic and organic ingredients in the mortar.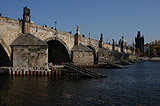 The construction of the magical bridge was started by Master Otto and continued by king Charles' favourite constructor and architect, Peter Parler (he build also St Wenceslas Chapel in St Vitus Cathedral and The Old Town bridge tower). The bridge was finished in 1402 and until 1870 was called The Stone or Prague Bridge (Kamenny/Prazsky Most). Originally, the Stone Bridge was supposed to host medieval tournaments and serve as major commerce link between the Vltava banks.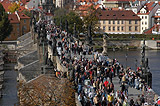 The bridge is 516 meters long and nearly 10 m wide, resting on 16 arches shielded by ice guards. It is protected by three bridge towers, two of them on the Lesser Quarter side and the third one on the Old Town side.
The bridge is decorated with 30 statues and statuaries, most of them Baroque style, erected around 1700. Now the original statues are kept in the Lapidary, the statues on the Charles Bridge are replicas.
For more pictures see Charles Bridge photo gallery