Welcome to Prague! To move along in Prague is easy, if you know a few tricks. About those tricks is this section.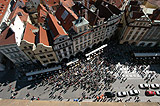 To start with the cheapest way, which is of course walking: especially in the historical centre it is the best way. Prague is a historical city and the centre was build for walking, for sightseeing the ideal option.
On the other hand, the most expensive way is by taxi, but if you adhere to one simple rule, it may be much cheaper – do not catch taxis at the street. Prague is neither New-York, nor Madrid, we phone for a taxi here. Because only time-proven taxi companies guarantee fair price.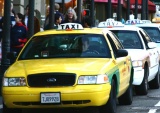 Despite the problems that sometimes occur, taxis remain the most comfortable way to travel and if you negotiate your journey in advance and take in mind the night extra charges you don't have to worry about stuff. Taxi cabs are usually at your service anywhere in Prague in about 10-15 minutes after ordering, by a phone or by the Internet order.
If you want to see Prague from the point of its citizens, use the public transport. It perfectly covers even the furthest hidden corners of Prague almost non-stop. By "non-stop" we mean the fact that Prague has a sophisticated system of night transport as well, even when the numbers change at minginght, it is easy to get where you want, even when using only the surface means,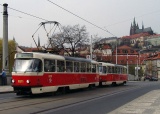 There is the subway 'metro', tramways and buses. Metro is quite fast, clean, and easy to orientate in (there are only three lines). Metro starts going at 5 and goes until midnight. Buses go longer tracks usually from centre to outskirts and back, if you want to move around Prague, the tramway system is the best, but don't forget to mark your ticket! If you are not sure how to get from A to B, go to the page www.idos.cz which will propose the track for you.
If you plan to rend a car in order to travel around in comfort, you should know about parking zones. They are marked by lines on the ground. Orange zone – maximum parking time 2 hours, paid. Green zone – maximally 6 hours, paid. Blue zone – reserved for residents and local companies.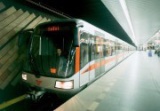 Of course, if you are looking for something special, you can buy a boat ticket. As surprising you may find it, the boats that can be seen on Vltava river are not just for short sailing tours around Prague, but are also used as an alternative for travelling to some places around Prague.
If you are courageous, you might find riding on bikelines a way to rushing adrenaline, but really we wouldn't recommend it, as bicycles are a common thing in the Czech Republic, but are used more in smaller towns and at the country side, not in the metropolis.