Tickets for the public transport can either be Transfer tickets or Non-transfer tickets.
| | | |
| --- | --- | --- |
| Single tickets | transfer | non-transfer |
| Adult persons over 15 years | 26,- CZK | 18,- CZK |
| Children from 6 up to 15 years inclusive | 13,- CZK | 9,- CZK |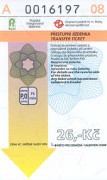 One thing that tourists usually don't bear in mind, and therefore get fined, is that it is necessary to validate the tickets at the validating machines before entering the metro, or when getting in trams or buses(picture down right). In the case you have the ticket, but it has not been validated, you can get a fine of up to 900 CZK. So again- the driver does not validate your ticket, you need to put it into a validating machine which prints time on the ticket, for the case a controller comes in.
Transfer tickets
allow you to use any of the means of the public transport (metro, bus, tram, funicular, some trains around Prague) for 75 minutes after validation on working days and for 90 minutes in the weekends.
Non-transfer tickets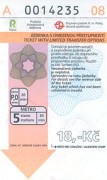 are valid in trams and buses for 20 minutes after validation and allow no changing of the link. Non-transfer tickets can be used for maximum 30 minutes after validation, on any of the A,B,C underground links, however nor for more than a distance of 5 metro stations. They are not valid for night links and funicular.
All kinds of tickets can be bought from PIT ticket vending machines (you will need coins), from ticket offices at metro stations, travel info centres or newsagents ("trafika") around metro, bus and tram stations.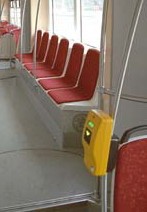 Prague tourist center is not huge and could easily be explored on foot. However, if you are accommodated somewhere further from the center and you need to travel at least twice a day to the center and back; it is advisable to buy one of the short-term tourist passes:
A. Short-term tickets
| | |
| --- | --- |
| 24-hours ticket | 100,- CZK |
| 24-hours ticket age 6-15 | 50,- CZK |
| 3-days ticket (72 hours) | 330,- CZK |
| 5-days ticket (168 hours) | 550,- CZK |
Short term tickets need to be validated only once and will be void just after the period printed on them expires (24 to 168 hours).
Additional fees: you need to buy and stamp an additional 13 CZK ticket if you're transporting larger luggage or a dog. You don't need to pay for a dog which you put in a bag (chihuahua size dogs)
Additional ticket sale: is possible from bus drivers, but not from tram drivers. There is a little extra fee.
B. Long-term tickets
| | |
| --- | --- |
| Monthly, full-price | 550,- CZK |
| Quarterly, full-price | 1480,- CZK |
| Annual, full-price | 4750,- CZK |
The last word – the first time you are going to use the ticket-selling machine may give you a hard time. Feel free to print this page, it may be handy. If you want to travel by metro, there is usually a little MHD window, where you can buy the tickets and get more information.