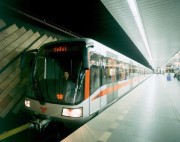 Prague underground ("metro") covers most of Prague and is the fastest and easiest way to get around the city.
What is unusual about Prague metro is its depth. Because of the soil characteristics the underground channels had to be dug quite deep so, as a result the escalators leading to the metro platforms are quite huge. It is therefore usual for standing passengers to use the right side of the escalator and for those who want to climb the stairs up or down to use the left side.
Useful info: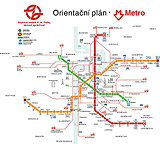 Trains run every day from 5:00 to 24:00
Trains run at 2-3 min frequency during peak hours and 5-10 min during weekends
Number of stations: 54, number of covered km: 56 km
Capacity: 458 mil. people transported per year
Green Line (A) – ending stations at Depo Hostivar (East) and Dejvicka (West)
Yellow Line (B) – ending stations at Cerny most (North East) and Zlicin (South-West)
Red Line C – ending stations at Ladvi (North) and Haje (South East)
While in the underground, you will hear a recorded message in Czech. In case you were curious what it means, take a look at the Mini phrasebook.
One more interesting fact, the longest escalator in Prague's metro is in station Namesti Miru (line A) measuring 87,02 m.