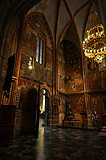 St Wenceslas Chapel is the masterpiece of Czech Gothic and the pride of St Vitus Cathedral. This beautifully decorated chapel is dedicated to the patron of Czech lands, St Wenceslas, a Bohemian Prince from the Premyslid dynasty assassinated by his own brother. The chapel was built on the former place of Romanesque rotunda where Wenceslas was buried. St Wenceslas Chapel still keeps the holy relics of the saint.
Charles IV built the chapel as an honour to the saint. He invited his favourite architect Petr Parler to design the chapel and he himself helped to design the place. We can still see the original look of the chapel that has stayed unchanged during the centuries.
Every coronation started in this chapel, as the kings went to pray there. It's said that there used to be night masses when the Czech nation was in danger or having really bad times. Masses are still held here even today but only on the day of St Wenceslas (28th September).
Interior
The value of the decorations of St Wenceslas Chapel is incalculable. The lower parts of the walls are decorated with more than 1300 gems, made in Bohemia. The joints between them are covered with gold.
The ornate Gothic frescoes on the walls shows the scenes from St Wenceslas's live and from the Bible. Charles IV is immortalized on the picture depicting Jesus Christ's crucifixion. The frescoes cover the area of more than 230 square meters.
In the middle of St Wenceslas Chapel is a beautifully decorated tomb of St Wenceslas connected with an altar. The holy relics of the saint can be found in a case on the tombstone.
Behind the door in the southwest corner there is the staircase leading to so called Coronation chamber, most guarded area in the Prague Castle complex. The chamber holds the Crown Jewels of the Czech Republic.
St Wenceslas Chapel is not open to the public, nevertheless, visitors can see it through the entrance to the chapel. Still, it's worthwhile!
For more pictures see St Wenceslas Chapel Picture Gallery