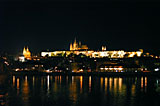 A history of more than 1100 years speaks for itself. The story of the Prague Castle identifies itself with the story of Prague and Christianity (860s, Chyril and Methodius) in the Czech Republic. In 870s AD the Prince Borivoj, one of the first Czech rulers from the Royal Dynasty of Premyslids ordered the building of the Castle, originally out of timber and with a soil rampart fortification.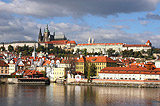 During the reconstruction of the Castle in 1920 a huge archaeological site was discovered, proving that the original size of the Castle is the same as the area that the castle occupies today. Originally, the castle premises included a palace, three churches and a monastery. Even though the fortification had to face many fires, invasions and even World Wars, it had somehow every time survived and as time passed, it became the symbol and living legend of Prague.
The most important moments in Prague Castle history line are the rebuilding processes undertaken by the Premyslids (Romanesque Style) in the 13th century and in the following two centuries by Charles IV (Gothic Style) and King Vladislav Jagiello (Neo-Gothic Style).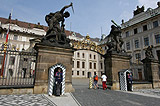 Not even the terrible fire in 1541 didn't end the history of the castle. On the contrary, Renaissance style was brought to the Prague Castle by the Emperor Rudolph II in late 16tth century and the castle was turned into a centre for art and science and a gallery for exquisite collections.
In the later half of the 18th century Empress Maria Theresa had the Castle buildings rebuilt in Baroque style, their current appearance. Since 1918 the Prague Castle has served as the official residence of the president of the Republic.
For more pictures see Prague Castle areal photo gallery