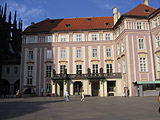 Splendid Old Royal Palace (Stary kralovsky palac) on the third courtyard used to be the seat of Bohemian princes. It was founded in the 9th century and since then has been changed significantly by great emperors Sobeslav I, Charles IV, Wenceslas IV and Vladislav Jagiello. Sobeslav I built a Romanesque palace around 1135, the remnants of which can be seen in the cellar of the present building.
Vladislav Jagiello decided to make big changes and hired Benedikt Ried to build the Vladislav Hall on the top floor of the palace and a palace wing called after his son Ludwig. Habsburk dynasty used the palace for coronations, assemblies, government offices and depositories.
During the World War II. the Czech Crown Jewels were hidden in the Old Royal Palace to be protected from the air-raids. Nowadays the Old Royal Palace with its spectacular halls is a part of the Prague Castle's long and short tours.
The Vladislav Hall used to be the largest secular hall of medieval Prague. From the 16th century was used for coronation festivities, knights' tournaments, balls or markets with luxurious goods. Knights on horseback could enter the hall by climing Rider's Staircase. The hall is now used for the elections of the president of the Czech Republic and for ceremonious state events. There is a beautiful view of Prague from the observational gallery on the southern part of the Vladislav Hall.
From the corner of the Vladislav Hall there is the entrance to the Ludwig Wing. Ludwing Wing contains the offices of Czech Chancellery where the second Prague defenestration took place in 1618. Two Catholic Governors and their secretary were thrown out of the window. They survived thanks to a dung heap, even though some Catholics thought that it was angel's intervention. This event started Thirty Years' War.
The Theresian Way was built by Maria Theresa in 1766-68 to house the office registers. Now it serves as an exhibition hall for creative art.
All Saints' Church, consecrated to All Saints, was built by Peter Parler after 1370. After the great fire in 1541 only peripheral walls remained. It was renovated in the Renaissance style after 1580 and prolonged to the Vladislav Hall. The church is open to the public only during religious services and concerts, you can enter it from the Vladislav Hall.
Old Royal Palace is open to the public:
April – October 9:00 – 17:00
November – March 9:00 – 16:00