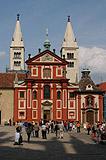 St. George Basilica and convent is the second oldest church in Prague ever. It's appearance today though, does not really denote a construction from the year 920. Only when you decide to visit it's interior, will you definitely notice the oldish looking walls, reconstructed to their Romanesque appearance. Amongst exhibited pieces of art from Bohemian Gothic, Rudolphian and Baroque period, you will find the soundless tombs of the Premyslid prince dynasty in the main nave. Let's take a look at the long and restless history of this beautiful monument.
Going back to the times of Prince Vratislav, we will find the Second Church at the Prague Castle, now St. Geoerge Basilica, transformed into a Benedictine nuns' convent. As many other Prague monuments of the time, neither this could survive without a fire… and it is the destructive fire in 1142 that leaded to the reconstruction of the church to the Romanesque appearance we see today.
Along the 13th century, the church was enlarged with a new portico on its western side and a chapel carrying the name of St. Ludmilla.
The nice façade we see today is a work of the early Baroque years (1671-1691) in Prague. Later, at the beginning of the 18th century the architect F.M. Kanka designed the new Baroque Chapel praising St. John of Nepomuk. The church was to be devastated again by Joseph II's troops occupation (1782) and then reconstructed back to its Romanesque and Baroque features.
After a millennium and more of agitated history, St George Basilica is now the host of the Bohemian Gothic art and the Rudolphian and Baroque period art exhibitions, and a faithful witness of Prague's past.
If you happen to be nearby for a few days, don't miss one of the concerts held inside the basilica from time to time. It's huge and rather empty interior guarantees excellent acoustics, the perfect site for classical music concerts.
Address:
Prague Castle, Hradčany, Prague 1, 119 08
Phone: +420 224 371 111
Email: tourinfo@pis.cz
Web: www.hrad.cz
How to get there: Malostranska (green metro line A), Trams No 22, 23 to the Prague Castle. You will recognize St. George Basilica after it's twin white towers that can be seen from almost all over Prague.
For more pictures see St. George Basilica photo gallery