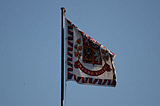 Probably the most spectacular and beautifully decorated halls at Prague Castle complex can be found in New Royal Palace, that, together with St Vitus Cathedral, surrounds the III courtyard of Prague Castle. The palace served as the dwelling place for many rulers in the past. Now it is used by the office of the president of the Czech Republic and its administrative. The exclusive halls inside New Royal Palace are used for the receptions of diplomats and statesmen officially invited by the president. They are open to the public only during two Czech national holidays or special events.
The New Royal Palace was created by reconstruction of several buildings from the reign of Rudolf II, Ferdinand III and Maxmilian II. During the Theresian reconstruction in the 18th century most of the halls got its present look. The rich art collections that had been placed in many rooms of the palace were took by Swedish as war booty, by Habsburgs as their property into Vienna or were sold for a ridiculous amount of money. The remains of the collection can be found now in the Prague Castle Picture Gallery.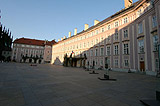 The palace consists of four wings – western wing, northern wing, central wing and southern wing. Let's have a look at the most significant rooms of New Royal Palace.
Throne Hall in the Southern wing is meant for the most important state events, such as designation of the government, university professors, etc. The hall is decorated with three crystal chandeliers, large Persian carpets and a painting depicting the coronation of Ferdinand V.
Rudolf gallery in the northern wing was built by Rudolf II and designed for his art collections. At the times of the reign of Rudolf II the wall were plain so that they could hold as many pictures as possible. Now are the walls of this 47 meters long room decorated with reliefs from the second half of the 19th century.
Beautiful Spanish hall in the northern wing near the Powder Bridge (Prasny most) got its name after Rudolf's popular Spanish horses in the stables below the hall. It was built by Rudolf II for his collection of statues. It was redesigned into a ballroom on the occasion of the coronations of Ferdinand V and Franz Joseph I. This large hall (43×21x12 m) is decorated with golden chandeliers, light walls with ornaments and large mirrors. It is used now for state and cultural events.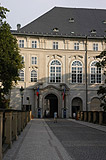 Open to the public:
State rooms are open to the public only twice a year during two national holidays – Day of Liberation from Fascism in May and The Foundation of the Czechoslovak Republic in October.
How to get there:
The entrance to the state rooms is via Pacassi staircase between the I and II courtyard of Prague Castle.