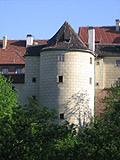 White Tower at Prague Castle, sometimes called New White Tower to be distinguishable from the White Tower between the II and III courtyard, is situated at the west end of Golden Lane. This tower was used as a prison for noblemen since 1584, the last prisoner left the tower in 1743. Most of the prisoners were debtors and rioters. Even though the tower is not open to the public, it has a very interesting but also frightening history.
On 24th February 1534, one of the cruelest women in the Czech history, the wife of the burgrave of Karlstejn, was lowered to the bottom of White Tower, vaulted dungeon without any windows, with a rope. Her name from Katerina Bechynova of Lazany and she was sentenced to death for having murdered 14 people, especially young girls. She was convinced of many cruel deeds, such as cutting her victim's skin with a knife and then putting salt in the wounds. She died in the tower not only of starvation and thirst but also because of low temperatures in the White Tower.
According to many stories, one of the most famous prisoners was Edward Kelly, the alchemist in the services of Rudolf II. Another prisoners of the tower were several leaders of the Czech Protestant Estate rebellion that was ended by their defeat at White Mountain in 1620. They stayed in the tower before they were taken to the Old Town Square and executed. Some of them had carved the year 1620 on the stone door of the tower. The year is still clearly visible there.
How to get there:
The White Tower is situated in the Golden Lane at Prague Castle. To Prague Castle complex you can get by trams no. 22, 23 and get off at Prazsky hrad stop. The follow the sign to Zlata ulicka (Golden Lane).