(Staroměstské náměstí)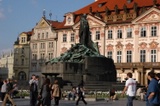 Mystic, traditions and the history of the Czech nation unfold their beauty in the centre of old Prague, every time the Astronomical Clock strikes the exact hour. The history of the square goes back to the 10th century, when the place was one of the favourite market places in the developing town of Prague.
Nowadays the square is filled with tourists, terraces, restaurants, cafés, souvenir shops and galleries. It is also the starting point for the horse drawn carriage rides or meeting place for different city tours.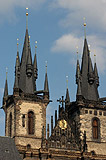 The Square is dominated by the monument of Jan Hus, one of the most important Czech reformers and nationalists. He was born in 1369 and was the first rector of Charles University. Among others, he simplified the Czech writing rules and he wasn't afraid to firmly criticize the corrupt practices of the Catholic Church and the Papacy at those times. In 1415 he was declared a heretic and burned at the stake. His beliefs were shared by the Czech nationalists (nobles and simple people alike) and the Hussite wars in the 14th and 15th centuries followed his dramatic death.
On the 6th of July 1915, at 500 years after Jan Hus' death, the monument now towering over the Old Town Square was unveiled. It is the work of Ladislav Saloud, inspired by the famous sculptures of the French artist Auguste Rodin.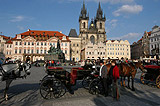 The buildings from the Old Town Square are a fortunate collage if architectural styles. Gothic comes immediately after Cubist houses and don't be surprised if next to them you will see a most beautiful Baroque construction.
The most famous of them all is without doubt the fabulous
Astronomical Clock Orloj
in the
Old Town City Hall
.
For more pictures see Old Town Square photo gallery