Interesting features: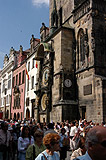 Part of the Old Town City Hall building was destroyed on the last days of the Second Wold War in 1945, therefore after the reconstruction it looks like two different buildings linked in one.
Interesting is that the part that looks newer is in fact the older one: it dates from 1338, when King John of Luxembourg permitted the construction of the first city council residence.
The 69,5 m tall Town Hall Tower, hosting the astronomical clock, was built in the 14th century and given a neo-Gothic facade in the 15th century. It is now opened for tourists and offers one of the most comprehensive views of Prague. Unique will be not only the view over the narrow Celetna Ulice but also the look at Prague's main places of interest.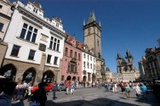 At the tower chamber you can make your own souvenir coin at the souvenir-maker (insert a 20 CZK coin and then put one of the metal coins you will find in the plastic tray in front of you into the machine and spin the wheel).
How to get there:
Go through the tourist Info Centre at the Old Town Hall and then climb the stairs or just take the elevator up the top.
For more pictures see Old Town City Hall photo gallery
Opening hours:
| | | |
| --- | --- | --- |
| November – March | Mon 11 – 17 | Tue – Sun 9 – 17 |
| April – October | Mon 11 – 18 | Tue – Sund 9 – 18 |