Gothic chapter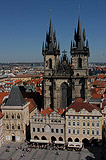 The church of our Lady before the Tyn is one of the most preeminent symbols of Prague Gothic style. As well as many other monuments in Prague, this church has a long and eventful history. In the place we see the church with two Gothic towers that dominate the Old town square and all the Old centre of Prague, Ungelt, have stood three churches, each destroyed by the wickedness of times.
The first mention about a Romanesque church on this place goes back to the 12th century. The church of our Lady Before the Tyn as we see it today was build starting with the 14th century, in the times of Charles IV. The construction of the church was not finished until the mid of the 15th century, in 1470 under the rule of the last Czech king Jiri z Podebrad.
In 1679 the church was hit by fire and the gothic dome of the main nave has been reconstructed in the early Baroque style. Parts of the original Gothic structure have been kept.
The church of our Lady before the Tyn became a national symbol and the main Prague church during the times of Hussites. From the year 1424 it was also the home of the Hussite archbishop, Jan Rokycana.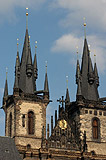 The interesting thing about the twin towers is that if you take a closer look, they are not at all identical. One of them is in fact a bit more solid and it is said that it represents the stronger side of the family, the man.
What is more, the interior of the Church is one of the richest you can see in Prague. The main altar picture is the work of Karl Skreta, the most famous painter of his times. The altar picture represents the Rise to Heavens of the Virgin Mary.
Another worth mentioning altar is the stone baldachin of Matej Rejsek, who contributed also at the construction of the Vladislav Hall at the Prague Castle. When there, don't miss one of the most famous Renaissance Czech paining on wood. It is the work of Vaitech Hellich, known for his portrait of Bozena Nemcova, now exhibited in the National Galleries. It is said that he used this portrait of the famous Czech writer for some of his paintings representing the Virgin Mary.
The Curch of our Lady before the Tyn is a monument you could not go without noticing, especially by night, when its mighty towers seem to be dominating the entire panorama of the old Prague.