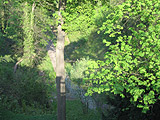 Deer Moat (Jelenni prikop) used to be a part of Prague Castle northern fortification and helped to defence the Castle. It was created by Brusnice stream which was drained to the underground pipes in 1899. Archaeologists found out in the 19th century that the moat hid traces of prehistoric settlement.
When the Royal garden were created, the Deer Moat was arched by a wooden bridge on 5 stone pillars called Powder bridge (Prasny most). Later the bridge was replaced by a dike that divides the moat into upper and lower parts.
During the reign of Rudolf II the moat was fenced and used for hunting a large number of deer. That's when the Deer Moat got its name. Unfortunately, all the deer were shot by French soldiers during the Prague occupation in 1741-42.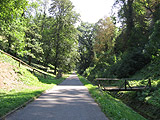 Deer Moat was also used as a rubbish dump. During the reign of Joseph II the Deer Moat contained even some items from renowned Rudolf's collections that were not sold at auction. Even bears could have been seen in Deer Moat about 100 years ago.
These days you can visit both upper and lower part of Deer Moat. Upper part offers small meadows with a net of paths and benches. The lower part keeps the natural character of the past. The Deer Moat is open during the summer season.
How to get there:
The lower part is accessible from the slope Opyse above Chotkova street. The upper part is accessible near the Powder Bridge.
For more pictures see Deer Moat Photo Gallery