A wonderful place to relax and have a look at Lesser Town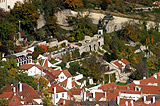 and Prague's splendid red roofs are the terraced gardens below the Castle: Ledebur Garden, Small and Great Palffy Gardens, Kolowrat and Small Fürstenberk Gardens.
The hill below the Castle had originally only defensive purposes and was basically covered with ramparts. At the beginning of the 16th century, when the wars started to lose pace, the lands were sold and new vineyards and Italian style gardens appeared in the place of the demolished fortifications. New gardens then developed during the 18th century on the place of the former vineyards and Renaissance gardens. Five of the six exquisite Baroque gardens have been reconditioned and are now open for visiting during warmer seasons. The sixth garden is waiting to be reopened.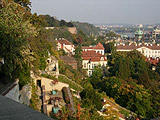 The Royal Garden
One of the most beautiful gardens of Prague Castle is the one containing the singing fountain (it stands in front of the summer palace). This can be found in the middle of the Royal Garden next to the Royal Gazebo, a beautiful example of Italian Renaissance.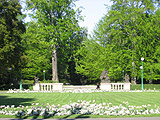 The Royal Garden was designed around 1500 AD as an Italian garden. As time passed, it was dec orated with exotic trees and plants. Cedar and Fig trees thrive and also tulips have grown here since 1554, when the Turkish Ambassador brought them to the Castle. Red, white and yellow tulips bloomed in the Castle's Royal Garden for the first time anywhere in Europe, long before spreading across the European continent, in particular Holland.
(Carolyn D. Ahrns from Las Vegas, NV.)
Address:
Valdstejnské námestí 3, Prague 1 – Little Quarter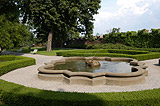 Phone:
How to get there:
From the Prague Castle. (From garden "Na Valech")
Valdštejnská ul.12-14 (Tram stop "Malostranska", underground green A line "Hradcanska")
Valdštejnské nám.3 (Ledeburský palác) (Tram stop "Malostranska", underground green A line "Hradcanska")
For more pictures see Gardens below the Prague Castle photo gallery