How many bridges are in Prague ?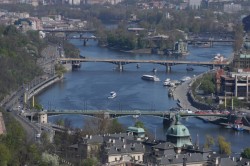 Prague is called the city of hundred towers, but it could be called the city of hundred bridges as well. Our capital has many towers and is similarly proud of many bridges and boards. The authors of Prague Bridges Encyclopedia have counted more than three hundred of them. They lead not only over Vltava, but also over many other smaller rivers and brooks as Berounka, Botic or Rokytka. Some bridges must pass over field disparities including two well known Prague valleys – Nuselske and Prokopske. And the number of bridges is still increasing due to building-up the city circle.
The most famous bridge is undoubtedly the Charles bridge – the only connection between the both Vltava´s watersides for more than 450 years. This bridge has actually its own museum, where you can see the history of the Charles bridge and its predecessor Judita´s bridge. The second bridge over Vltava was the chain bridge of Franz Josef I.
With the railway development in 19th century came also blustering fabrication of railway bridges. The most beautiful and longest railway bridge is Negrelli´s viaduct. This more than one kilometre long stony bridge is coming from Karlin to Holesovice over the Stvanice island. His author, the Austrian engineer Alois Negrelli, has made the project of Suez canal as well. Thanks to the building of Prague railway bridge was Negrelli highhanded as the knight of Vltava and Labe river.
Other railway unique is so called "Prague Semmering" which leads over the valley on two high pillars. But not only big and famous bridges have their sense. Small bridges over the Certovka on Mala Strana or steel foot bridge connecting the Prague Castle with Letna are also very pictorial. But the best known foot bridge in Prague is the one which was formerly leading over the fortification drain of old town walls. Its survivals are now decorating the underground station Mustek.
Cafe "Cas" quite near the Charles Bridge Summer Holiday Ends - changes in Prague transport