Cafe "Cas" quite near the Charles Bridge
I donť know how about you, but when I am in a foreign country in a foreign city I am always curious about cafes, restaurants and pubs. But I always have to search for a long time until I find some of these places which I like. Now I can simplify your searching and recommend you one cosy and comfortable cafe.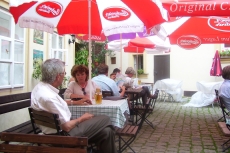 The cafe Cas (Cafe Time) is located not far from the Charles Bridge in the street Misenska 2 ( U Luzickeho seminare 15). This location is very advantageous when you are tired after a long way on the Charles Bridge with hands full of souvenirs and pictures with your portraits. Opening hours are every day from 10 a.m. to 8 p.m. Kind and amicable waitresses will offer the menu with different kinds of soft drinks, beer, wine, strong drinks, hot drinks, sweets and canapes. Prices are very low and you can feel history and memories in the air. Why? Because this bulding is history itself.
The house is from the beginning of 17 th century and is registered in municipal folders like Vysoky (High) or Pansky (Lord's) House. It belonged to Waldstein family. The house has had many owners and had been many times broaden and rebuilt. You can also sit under a parasol inside the building where is a small garden. My friend who works there as a waitress told me that you can meet some artists from the Charles Bridge who relax there. So remember, the cafe Cas is waiting for your visit.
Paul van Dyk in T-Mobile Arena How many bridges are in Prague ?