Paul van Dyk in T-Mobile Arena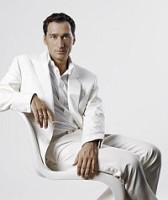 If you like electronic music, great show, party and DJ and Producer Paul van Dyk, you have the unique opportunity to see his performance in T-Mobile Arena in Prague. When? On Friday, 14 September Paul Van Dyk will perform on the action called "In Between" Album Tour, in cooperation with United Music and Bohemian Recordings. You can see three hours lasting performance where he will show his skills and unique style in which he combines technologies of Serato Scratch Live and Ableton Live, complemented by playing the electronic keyboard.
Paul van Dyk was born in East Germany and grew up in communist East Berlin. He liked listening to the radio and discovered his passion for music. He wanted to find and create a different, more unique sound. In 1990's he played at various clubs in Berlin and in 1994 he released his first album 45 RPM. Currently he is the World's No. 1 DJ and dominate the electronic music charts. He has sold over 3 million albums and in 2005 was nominated on Grammy for Best Dance/Electronic Album for his original album Reflections.
But he is not only DJ and Producer, he is also person who dedicated his life to politics and social justice. From his youth he has had children's charity in India's Mumbai and partnership scheme with the German Red Cross to help poor children in Berlin. He most recently received Berlin's Medal of Honor for helping poor children in Berlin.
If you decided to eyewitness this famous person, donť hesitate and buy the tickets. On this action, you can also see Michael Burian, the Czech interpreter who will perform new label Bohemian recordings on which he is going to release his own Michael Burian DVD on March. Polish DJ and Producer Angelo Mike and Dutch DJ and Producer Pacific are the next guests. If you want to know something else about Paul van Dyk, look on his official websites www.paulvandyk.com.
Ice hockey in Prague Cafe "Cas" quite near the Charles Bridge