Prague Exhibition Ground is used for many trade fairs and exhibitions, as well as other cultural, social and sport events in Prague. Among one of the popular events there is Mathew fair (Matejska pout) held in spring and offering many attractions for children as well as adults.

Prague Exhibition Ground was built on the eastern part of Stromovka on the occasion of the Jubilee Exhibition in 1891. It was extended into the present look in 1952-53, its total area is now 40 ha.
The Industrial Palace used to be the main building of the Jubilee Exhibition. It is still the centrepiece of many trade fairs and exhibitions. It consists of a central part with a 51-meter-high clock tower, and two wings. The Industrial Palace was build in Art Nouveau style in 1891.
Four modern multi-purpose Krizik's pavilions enclose the Krizik Fountain, famous for various concerts of classical music and light effects. The total area of Krizik's pavilions is 5,488 square meters.
Former Pavilion of the City of Prague near the entrance to the Prague Exhibibition Ground, is now the Lapidary of the National Museum that houses a large collection of stone sculptures mostly made in Prague from 11th to 19th century (exceptionally the beginning of 20th century). The best 400 sculptures out of about 2,000 are exhibited there, the rest is kept in a safe.The Neo-Renaissance building opposite the Lapidary belongs to the Academy of Fine Arts in Prague.
The pyramid in the lower part of Prague Exhibition Ground serves as a universal pavilion for many exhibition, but also theatre performances. The height of the building is 40 meters.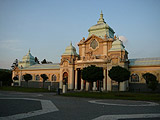 Marold's Panorama shows, thanks to the Marold's panoramic painting placed in this circular building, the important event in Czech history, Battle of Lipany.
T-mobile Arena is a large multi-functional building that can be easily adjusted for various events, such as ice-hockey matches, music concerts, exhibitions, fashion shows, etc.
All those, who want to see the biggest sea aquarium in the Czech Republic, shouldn't miss the Sea World. The exhibition shows more than 4.500 fishes and sea animals.
Address:
Prague 7 – Holesovice
How to get there:
Take trams no. 5, 12, 14, 15, 17 and get off at stop Vystaviste. All of these trams go via station Nadrazi Holesovice (metro red line C).
For more pictures see Prague Exhibition Ground photo gallery