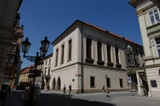 When Charles IV. founded Charles University in 1348 he stressed out that it was the first university in the central Europe. There were four faculties at that time: faculty of art, medical faculty, faculty of law and theological faculty. The lectures were given first in churches, monasteries or private flats. Charles College was founded in 1366, seated in the Jewish quarter. The teachers and students realised more and more that they needed a building that would represent the university. That's why the son of Charles IV, Wenceslas IV., bought for the university an imposing Gothic house of Jan Rotlev and added two other houses. These buildings were reconstructed for the university purposes and Charles Colleage moved into the new complex – Carolinum (Karolinum).
The buildings were extended – a new university chapel and a big hall for ceremonial assemblies – aula magna – were built. The university had lecture-rooms, assembly halls, flats for lecturers, a spa and even a prison.
The university building experienced a lot of events important in the Czech history. Professor and rector John Huss used to give lectures here.After 1620 the university was taken over by the Jesuits. They connected Carolinum with their college in Clementinum.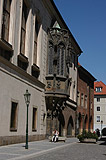 Carolinum's pride is the big aula which is used for university celebrations and graduation ceremonies. The main wall is decorated by a tapestry with the motive of Charles IV. kneeling in front of St. Wenceslas. In front the tapestry there is a bronze statue of Charles IV.
The chapel, arcade and walls of Carolinum still survive. Notice especially a fine Gothic oriel window from 1370. When walking in the centre of Prague, don't miss Carolinum where the important history has been written. Carolinum is open during ceremonies, special events or open-door days.
How to get there:
From Old Town Square walk along Zelezna street (near Old Town Hall) and turn left to Ovocny trh. Or along Celetna street and turn left. From Wenceslas Square walk along Na Mustku street and turn the second street right (to Rytirska street). Continue to Ovocny trh.