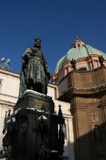 The Knights of the Cross Square (Krizovnicke namesti) is one of the smallest square in Prague, but still much frequented by tourists. The square cannot be missed by anyone who walks from the Old Town to Prague Castle over Charles Bridge. The square is situated near of Old Town Bridge Tower and offers a splendid view across the Vltava river.
In the middle of the square is a Neo-Gothic statue of Charles IV leaning against a sword and holding the deed of foundation of Charles University in Prague. The statue was made in 1848 on the occasion of the 500th anniversary of Charles University.
Vine column is the only part that was left from wine bureau seated in Knights of the Cross Square in 1358 – 1783. The bureau was responsible for the whole administrative connected with growing vine. The column is wound with vine. The statue of St Wenceslas, who is the patron of winegrowers, stands on the top the column. Notice the remains of the original paving of former Judith bridge, the predecessor of Charles Bridge, around the column.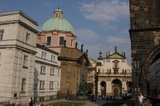 On the north side of the square is the Church of St Francis built by the Knights of the Cross with the Red Star in the 17th century. The architecture of this Baroque church with an impressive dome has served as an exemplar for many future architects.
Another dominant of the square is the Church of the Holy Saviour which belongs to the large Clementinum complex. Church of Holy Saviour, built in late Gothic style, was once a mint. The interior of the significant church was full of machines for coining. Not until 1861 the church was adapted for sacral services.
From the Knights of the Cross Square you can also enter Gallery U Krizovniku which holds works of arts of the Order of the Knights of the Cross with a Red Star. It was the only order that was founded in Bohemia. It was also the only male order founded by a woman. The Gallery U Krizovniku organizes various exhibitions. Visitors can also have a look at the parts of former Judith Bridge.
How to get there: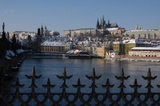 Go by metro green line A to Staromestska, or by trams 17 and 18 to stops Staromestska or Karlovy Lazne. When walking from the Old Town Square to Prague Castle, Knights of the Cross Square is between Karlova street and Charles Bridge.
For more pictures see Knights of the Cross Square photo gallery