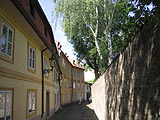 A charming place that has attracted many artists and romantic soles for more than three centuries can be found near Loreto and Prague Castle. The narrow street with small houses called the New World (Novy Svet) create a romantic atmosphere in any season of the year.
The houses were built there in the mid-14th century to provide accommodation for castle workers or those who wanted to be close to Prague Castle. Fire damaged the area twice, the last time was in 1541. Most of the small houses were rebuilt in the 17th century.
Even though the people there were not wealthy, they were fortunate enough to have a roof over their heads. They used to put house signs above the door to identify their houses, which you can still see there up till today.
This street is connected with two famous people who lived there. One of them is the famous Rudolf II's astronomer Tycho de Brahe who used to live in the house no. 1 called At the Golden Griffin. Great Czech violin virtuoso Frantisek Ondricek was born in the house no. 25 called At the Golden Plough.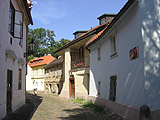 The house called At the Golden Grape is decorated with a predatory fish on the bay while the inner courtyard of the house At the White Lion is beautifully ornamented with ivy. See also the house signs A Golden Pear, a Grape, a Foot, a Bush or an Acorn hidden in this street.
How to get there:
From Malostranska station (metro green line A) take tram no. 22 or 23 to the stop Brusnice. Or walk from the main entrance of Prague Castle through Hradcanske square and Kanovnicka street.
For more pictures see New World Photo Gallery