Walking on Charles Square, you can find a house so mystical as it is its name – Faust House (Faustuv dum). Legendary Dr. Faust is known for his pact with the devil and a black magic. Even though real Dr. Faust probably never visited Prague, this house got its name for its mystical history and especially for its eccentric inhabitants.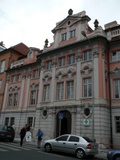 In the 14th century this baroque mansion was owned by Prince Vaclav of Opava who was very keen on natural sciences and alchemy. He was the first one who gave rise for the association with Faust legend because of his special profession. Under rule of Rudolf II. astrologer Jakub Krucinek lived there with two sons. The younger son killed the older one for alleged treasure hidden in the house.
Among other dwellers of the Faust house were also famous alchemist Edward Kelley or Ferdinand Antonin Mladota of Solopysky whose chemical experiments (which sometimes led to big explosions making even holes in the roof!) scared people in the neighbourhood. Mladota's son was good not only at physics and chemistry but also at mechanics. He astounded his visitors by a door opening itself, a flying staircase or electric shocks while touching the handle.
After that a pure student lived in that house. He tried to cover the holes in the ceiling but unsuccessfully. A legend says that he found a secret book, read some spells and was taken through the holes by the devil like Dr. Faust.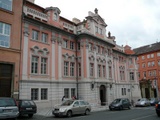 Probably the most eccentric dweller of the Faust house was Karl Jaenig in the 19th century. He painted the walls with funeral texts, he had a functional gallows at home and slept in a wooden coffin. In his will he wished to be put into his coffin with his face to the bottom.
Even though names of the dwellers may be forgotten, their unusual behaviour in the eyes of other people created a legend that will always stay alive.
Unfortunately the Faust house is closed to the public. But you can still admire the house from the outside and wonder what history is hiden behind the walls.
Address:
Karlovo namesti 40, 41.
How to get there: You can go by metro yellow line B and get off at the station Karlovo náměstí or go by trams no. 3, 4, 10, 14, 16, 18 or 24 to the stop Moran.
For more pictures see Faust House picture gallery