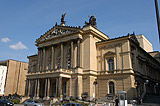 The lovely Neo-Classical building of the State Opera cannot go unnoticed. The style is recognizable thanks to the frieze decorating the triangular pediment above the loggia with characteristic columns. Dionysus, a promoter of theatre, and a muse of comedy Thalia sit majestically on the very top of the opera and overlook the busy street underneath.
The "occupations" of the mythological figures bring us to a rather surprising fact that opera has been opera only for less than a half of its over hundred years long history – to be more precise since the end of the Second World War. If you are asking about its former destiny, we have to travel into the past…
Travelling into the past…
The very first building on this location was the wooden semi-circular New Town Theatre. There was one quite a serious problem with it – it was so spacious that the three thousand people it could hold would freeze during winter because it was next to impossible to heat the building. As people would not certainly mind enjoying visiting theatre also during winter (without risking health problems), it was pulled down at the end of the 19th century, when "our" opera was built by Viennese architects at its place.
This explains busts of Goethe, Mozart or Schiller that smile at you from the face of one of the most beautiful theatre buildings in Europe. It earns this characterization due to its spacious auditorium with:
originally painted curtain
Neo-Rococo ornaments
as well as
lovely stucco decorations.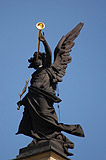 Actually, it was initially still not an opera but the New German Theatre – a reaction to Czechs' National Theatre. During the inter-war period it became a refuge for German artists fleeing the fascist regime. This brings us to the last note that busts of Czech artists, who fell a victim to the same regime their German colleagues tried to escape from, can also be found inside.
There is therefore a lot to see before settling comfortably and enjoying the performance enhanced by the perfect acoustic.
Address:
Legerova 75, Prague 1
How to get there:
Take the tube to Museum station (green and red lines A and C) or simply walk up the Wenceslas Square and then turn into Wilsonova Street which takes you directly in front of the opera.
Contact information:
Phone: +420 296 117 111
Email: informace@opera.cz
Programme: www.statniopera.cz/en
For more pictures see State Opera Photo Gallery