Wallenstein Garden (Valdstejnska zahrada) is probably the first palace garden in Prague. It belongs to the Wallenstein Palace, nowadays the seat of the Senate of the Czech Republic. The garden was built together with the palace in 1623 – 30 in early Baroque style. Now you can find it as a lovely and pieceful place in the centre of Prague.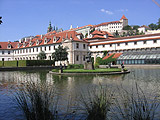 Situated in the east you can see Sala terrena with three arcades. The walls of Sala terrena are decorated by frescoes and stuccoes representing Trojan wars by Baccio di Bianco. The character of the decorations is similar to the decorations in the palace. There are many concerts and theatre performances organized in Sala terrena nowadays.
Entering the garden from the palace, your attention will be probably drawn by a large wall opposite the entrance. Although you may have the first impression that you‿re looking at skulls, it's actually a wall with artificial stalactites imitating limestone cave (grotta). To the right of the cave you can see a aviary for exotic birds.
Many statues and fountains that you can see in Wallenstein Garden are copies of the original ones made by famous Dutch artist Adrian de Vries. These works of art were plundered by Swedish as war booty in 1648. The copies were brought to Wallenstein garden much later, in 1912-1918. The statues represent heroes from Greece mythology.
Wallenstein Garden is 1,7 ha large and there is enough space for a pond where you can feed ducks. The pond was used for small boats in the past. Another copy of de Vries work, a marble fountain with statues of Hercules and the Naiads, is on the small islet in the middle of the pond.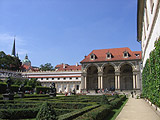 Address:
Letenská, Prague 1 (city centre)
Wallenstein garden is open from April to October from 10 – 18.
How to get there:
In 1997 another entrance to the Wallenstein garden was open. It was a new gate from the metro station Malostranska. Two other entrances are from the first yard of Wallenstein Palace and from Letenska street.
Concerts held in spring and summer are mostly for free, the garden is during the concerts open to the public.
For more pictures see Wallenstein Garden Photo Gallery