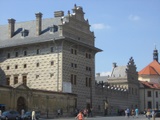 One of the most beautiful and well preserved Renaissance palaces in Prague is situated near Prague Castle on the Hradcanske square. The palace is easily recognizable by its rich black-and-white sgraffito decorations on its walls.
Schwarzenberg Palace stands on the area of three buildings that were destroyed by great fire in 1541. The ruins were bought by Jan Popel of Lobkowicz, one of the richest noblemen in Bohemia and later on Prague's highest burgrave. The mail building, in T-shape, was built in 1567, the western wing was finished several years later. The walls of the palace enclose a square courtyard divided from the Hradcanske square by a wall and a grille gate.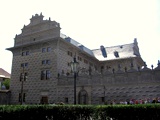 If you look carefully from the House At Two Suns in Nerudova Street, you can see a sundial on one of the chimneys of Schwarzenberg Palace. The sundial is accompanied with the symbol of the day – cock and the symbol of the night – owl.
The ceilings inside Schwarzenberg palace are decorated with paintings on canvas stretched over a wooden construction. The paintings made in around 1580 depict famous antic scenes – The Judgement of Paris, The Kidnap of Helen, The Conquer of Troy and The Escape of Aeneid.
After Lobkowitz family, the palace belonged to Petr Vok from Rozmberk dynasty, Svamberk dynasty, Eggenberg dynasty and from 1719 – 1948 to Schwarzenberg dynasty after which it's called. From 1909 the palace was used by the Technical museum, now it belongs to the National Gallery in Prague. However, the palace is under reconstruction now and that's why it's closed to the public now.
Address:
Hradcanske namesti 2, Prague 1
How to get there:
The closest way is to walk from Malostranske namesti (trams no. 12, 20, 22 or 23) up Nerudova street to Hradcanske square. If you don't walk up the hill, take tram no 22 or 23 from metro station Malostranska and get off at stop Prazsky Hrad. Continue via Prasny bridge and Prague castle courtyards.
For more pictures see Schwarzeberg Palace Photo Gallery