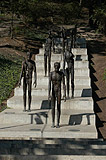 22nd May 2002, the first memorial to victims of the Communist regime was unveiled in Prague. It consists of a line of quite scary statues representing different phases of a human figure's destruction.
At first one part of the body is missing, than another and another until the figure seems to totally disappear into the void. Situated in the Lesser Town under Petrin hill, the memorial is the work of a renowned Czech sculptor Olbram Zoubek and architects Jan Kerel and Zdenek Hoelzel. Unfortunately one of the statues has been destroyed during a bomb attack in 2003.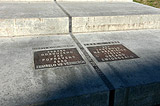 It is moving not just for those who were contemporary with the communist regime and know some things about it, but for everybody who passes by. It simply gives you the spooks looking at it…
How to get there:
Trams No 6, 9, 12, 20, 22, 23 (night trams No57, 58, 59) stop " Ujezd".