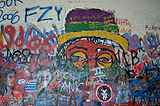 This is no joke – John Lennon is in Prague – well, to be precise, his wall is in Prague although John Lennon himself never visited Prague in his short life. Are you confused? Let me explain it to you then.
In Mala Strana, near the French Embassy, you'll see the John Lennon Wall. The wall that was formerly an ordinary wall in Prague has been called Lennon´s since the 1980s, when people have filled it with John Lennon-inspired graffiti and pieces of lyrics from Beatles songs. Why?
John Lennon and the Communist regime
Lennon was a hero to the pacifist youth of Central and Eastern Europe during the totalitarian era. Prior to 1989 when communism ruled, western pop songs were banned by Communist authorities, and especially John Lennon´s songs, because it was praising freedom that didn't exist here. Some musicians were actually jailed for playing it!
When John Lennon was murdered in 1980 he became a sort of hero to some of the young and his picture was painted on this wall, for whatever reason right here, along with graffiti defying the authorities. Don't forget that back then the Czech people had few opportunities to express their feelings with their lack of freedom. By doing this, those young activists risked prison for what authorities called "subversive activities against the state".
But the threat of prison couldn't keep people from slipping there at night to scrawl graffiti first in the form of Beatles lyrics and odes to Lennon, then they came to paint their own feelings and dreams on the wall.
The Communist police tried repeatedly to whitewash over the portrait and messages of peace but they could never manage to keep the wall clean. On the second day it was again full of poems and flowers with paintings of Lennon. Even the installation of surveillance cameras and the posting of an overnight guard couldn't stop the opinions from being expressed.
John Lennon Peace Wall
The Lennon Wall represented not only a memorial to John Lennon and his ideas for peace, but also a monument to free speech and the non-violent rebellion of Czech youth against the regime. It was a small war of Czech people against the communist police who cleaned the wall.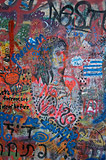 At first glance the Lennon Wall is like any graffiti-covered wall you see around the world. But this wall is special thanks to its history. I've heard people saying that it is Pague's equivalent of the Berlin Wall. They are not far from the truth. Some people also believe that the "John Lennon Peace Wall" helped inspire the non-violent Velvet Revolution that led to the fall of Communism in the former Czechoslovakia in 1989.
In 1998 the wall had to go through reconstruction of its crumbling facade but the spirit of the wall lives on. It used to be covered in anti-Communist graffiti, now it is covered in messages of love and peace. The original portrait of Lennon is long lost under the layers of new paints but if you look hard enough you can still find tributes to Lennon and a yellow submarine!
The wall, located at Velkoprevorske Namesti, Mala Strana, is owned by the Knights of the Maltese Cross, who allowed graffiti to continue. It will be a symbol forever.
How to get there:
From metro station Malostranska (green line A) take trams no. 12, 20, 22, 23. The nearest tram stops to Velkoprevorske namesti are either Malostranske namesti or Hellichova.
For more pictures see John Lennon Wall Photo Gallery