Velvet Revolution
In November and December, Czechs commemorate the Velvet Revolution. It refers to a bloodless revolution in Czechoslovakia that saw the overthrow of the communist regime in 1989, and brought back democracy to Czechs after fifty years of lack of freedom – after Nazi occupation and communist rule.
Velvet Revolution is very special since revolutions usually go hand in hand with fighting. Because of its peacefulness it was named "Velvet" as the revolution was as smooth as this material.
It started off on November 17, 1989, as a peaceful officially-sanctioned march in Prague to commemorate Czech student Jan Opletal, who died at the hands of the country's Nazi occupiers 50 years ago, in 1939. Students, however, soon started to scan slogans against the communist regime.
It is said that about 15 000 students had joined the demonstration. They walked to the grave of Jan Opletal and – after the official end – continued from the Czech National Cemetery at Vysehrad to Wenceslas Square calling for democratic reforms. They never made it there, however.
At about 7:30 pm, when they were halfway in their march, at Narodni Street, were the students stopped by a cordon of police. After few minutes, when the students offered flowers to the police shouting rhythmically: "We have bare hands" and singing songs, the police suddenly began to beat the young demonstrators with night sticks. Before that, the police managed to block all escape routes. Nearly 200 people were injured. One student was reported beaten to dead. Although this was later proved false, is served well for mass student's support among general public.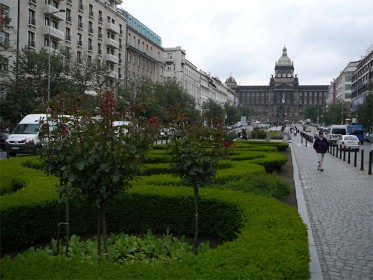 November 17 was the impulse for great changes to come. The six-week period between November 17 and December 29, 1989, that is the time period called the Velvet revolution. On December 29, Vaclav Havel, a dissident and a play writer well known for his anti-communist opinions, became the President of the Czechoslovakia. Soon enough, in June 1990, the first democratic elections since 1946 were held in Czechoslovakia.
Visit the key places where Czech history was in making – Vysehrad Cemetery, Narodni Street and Wenceslas Square, where students were heading. At Narodni Street, best reached by trams 6, 9, 18, 22, 23 – station Narodni divadlo, there is even a memorial to November 17. I am sure there will be candles there on this day and few days after November 17 too.
President of the Czech Republic always lays flowers there on this special day. You may meet him there!!
It is in a passage through on the right side if you walk from the National Theater towards the Wenceslas Square. There is portrayed a hand on the wall showing a "V" with its finger, which stands for Victory. It was a favorite gesture of demonstrators during Velvet Revolution meaning we will succeed.
What is very interesting is that in 1989, November 17 fell on Friday. This year it is Friday too!
November 17 is twice as important for Czechs Romantic night-walk in streets of Prague