Romantic night-walk in streets of Prague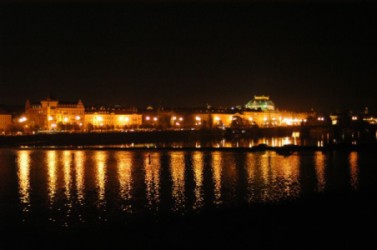 Prague, the capital of the Czech Republic in the very heart of Europe, is a truly romantic city that touches everybody's heart. In fact, Prague is a synonym of romance for many people. Alongside Paris and Rome, Prague belongs to romantic destinations for special occasions such as marriage proposals, wedding ceremonies or honeymoons. That doesn't mean that I want to force you into marriage! This article is not only for about-to-be-engaged couples or newlyweds. It is for all who love romantic walks. Whether you want to undertake this alone, with a good friend of yours or with your special someone, that is totally up to you.
Prague rates as one of the most beautiful cities in the world mostly because of its architecture and atmosphere. Prague is full of magical scenic views, historical sights, winding cobblestone streets, horse-drawn carriages, old-fashioned street lamps, charming gardens and many other romantic places inviting everyone to enjoy it. It is really fortunate that Prague has managed to survive the destruction of both World Wars, as well as Nazi and Soviet occupation almost unhurt! So now the beauty of Prague is here for you to enjoy it! Let the allure of Prague enchant you and your loved one!
At night, Prague is even more romantic and beautiful than during the daylight! Do you doubt this? Do you thing it is not possible for Prague to be even lovelier than as it is now? Just wait till it gets dark and see!
Starting by the National Theatre, when it is dark out, I would fully recommend you to walk along the river Vltava towards the Charles Bridge. You will have the chance to marvel at illuminated Prague Castle together with the Charles Bridge. And believe me, at night it is even better! Have a look at the river how it glitters with all the lights! I love this sight!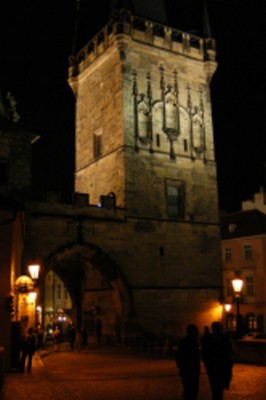 Continue slowly to the Charles Bridge and than across. Charles Bridge at night is with one world – wonderful! There is less people that during the day and that means you can fully enjoy the charm and spirit of Prague! It is really romantic and you get to see not just the magnificent view of Prague Castle itself, but the National Theatre, as well as St. Nicolas Cathedral and other bridges across the river Vltava! I would vote it the most romantic place in Prague, maybe even in the world!
And don't forget the Old Town Square – which is a wonderful place as it is, but wait till you see it at night when all the lights are on! Here the pure romance begins! You so have to see the Prague Astronomical Clock, Church of St. Nicholas, Old Town Hall and Tynsky chram all lighten up! It is marvellous! Not to mention that it is not at all as crowded as during the day, so you have almost the whole square for yourself!
And final advice for the gentlemen – to create the perfect atmosphere, buy your lady a flower! In Prague florists, flowers are not expansive, and it will definitely impress every woman! Let those moments in Prague be unforgettable!
Velvet Revolution About the building on top of the Wenceslas Square