About the building on top of the Wenceslas Square
Yes, I am going to write about the National Museum since it is the oldest museum and at the same time the most distinguished and largest museum in the Czech Republic. Plus there are some interesting things you may not know.
So, the National Museum is dominating the top of Wenceslas Square. You can't possibly miss it. It is a monumental Neo-Renaissance building, built in 1885 and 1890. It is a great symbol of the climax of the Czech national revival, a celebrated monument to Czech science and culture.
Many distinguished figures from the cultural and scientific life of the day took part in the founding of the museum. One of the most important of which was historian and Czech political leader Frantisek Palacky, who is now on the 1000 CZK banknote.
At present the National Museum shelters almost 14 million of items from the area of natural history, history, arts, music and librarianship, located in tens of buildings. Throughout the entire year, visitors may view the permanent exhibits of the National Museum as well as a number of temporary exhibits.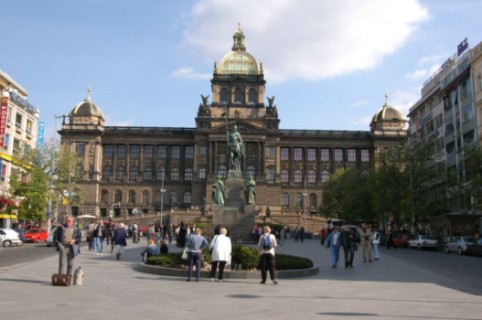 In the permanent exhibition you may wonder at collections such as palaeontological, mineralogical, zoological, which is most adored by kids, and other.
What you may not know is that this great symbol of Prague has been damaged twice already in its history. First time in 1945, during World War II, by a bomb. Second time it was damaged in 1968 Warsaw Pact intervention. The main façade was severely damaged by strong Soviet machine-gun and automatic submachine-gun fire. The bullet holes in sandstone pillars can still be seen because lighter sandstone was used during repair.
The beautiful interior of the National Museum is often used for movie shooting. To name some, for example many scenes of the Mission: Impossible movie with Tom Cruise, or the comedy Euro Trip, or lastly the new James Bond: Casino Royale with Daniel Craig, whose World premiere is scheduled for 14 November 2006.
The National Museum is open every day from 9 am to 5 pm. Only be careful about first Tuesdays of every month – that is when the museum is closed. You can reach it by subway A or C (green and red line), station Museum. Adults pay 110 CZK, student 50 CZK. Children under 6 have free entrance.
Romantic night-walk in streets of Prague Museum of Communism