Museum of Communism
Now it is the perfect time of the year to visit the Museum of Communism! For Czechs, November and December are months when they remember their Velvet Revolution from 1989, which brought back democracy into this country after many years.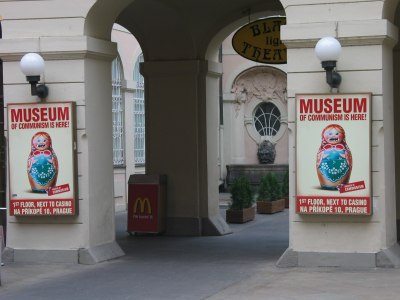 Especially now around November 17, which is the day commemorating the Struggle for Freedom and Democracy, in this museum you will feel like you went back in time. After a tour, you will be more than happy to walk out from this museum into a democratic world!
This museum focuses on the totalitarian regime in the former Czechoslovakia, especially Prague, from the communist coup in February in 1948 to its rapid collapse in November 1989. It presents the original items and meticulous installations containing authentic artifacts.
A variety of fields are represented, including daily life, education, arts, media propaganda, secret police and other. You get to see the historical classroom, the grocery store or even the interrogation room. There is also a room where you can watch a documentary film about the time period from the Soviet occupation in 1968 till the Velvet Revolution in 1989.
Museum is divided into three main rooms, representing the communist dream, reality and nightmare. There are historical explanations in Czech, English and German to every main event in communist Czechoslovakia, giving quick overview about the situation. You will be shocked after seeing the numbers of people, who were held in prison for political reasons, sentenced to work in uranious mine, or even to death!
It would be a great tragedy if Communism disappeared from the earth without leaving behind an indelible memory of its horrors. Public should be educated about the human rights violations of communist regimes, otherwise the future generations may experience it again.
The purpose of the Museum of Communism is therefore clear – to disseminate the awareness of people about those crimes committed by communist regimes on the example of Czechoslovakia.
The museum is located just a stone's throw from Wenceslas Square, on Na Prikope 10, in the same building as McDonalds, a branch of that ultimate symbol of capitalism, how ironic! It is not far from the subway station Mustek (line A and B), or Namesti Republiky (line B). Entrance fee for Adult is 180 CZK, students pay 140 CZK. Museum is open daily from 9 am to 9 pm.
About the building on top of the Wenceslas Square Do you want to help homeless people in Prague?