Do you want to help homeless people in Prague?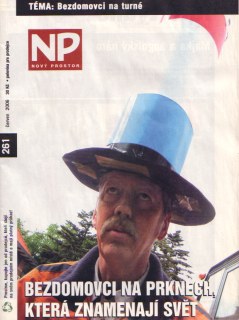 You may have already noticed on the streets of Prague those not very well dressed people who are standing outside at any weather conditions and in their hands holding magazine called NP. Who are they and what is NP?
Those people are homeless. They stand by most of the bus, tram or subway stations in Prague, selling NP. NP is a magazine that can be translated as a New Room. It is a street paper whose philosophy is to give the homeless the opportunity to earn their living through their own effort. The motto used is "a hand up, not a handout", as work is seen as more sustainable than simple providing aid. Those homeless are not begging for anything, they want you to buy the magazine.
These publications help to build bridges between the very poor and the wider public and help people to understand the underlying issues to social exclusion and take action. The main goal is to make homeless people part of society. For the vendor, it is an offer of positive experience of self-help that breaks through the isolation that many homeless people experience. It is a direct help that costs you only 30CZK.
And how it actually works? The homeless vendors buy the magazine from the non-profit making businesses at 50 per cent of the cover price, which is 30CZK, selling it on their reader for 100 per cent, keeping the profit, which is 15CZK. The 15CZK that goes to the organization is used to provide social support for homeless people.
So if you are in the mood and want to do a good turn, buy yourself this NP magazine. Even if you don't understand a word Czech, you will help a good thing.
However, do not mistake those selling NP for those offering "Strazna vez" (in English Watchtower), who are also standing near any public transportation. Those with "Strazna vez", magazine which is half the size of NP, are very clean and in no need of help. They are Jehova´s Witnesses.