One of the most beautiful buildings in Prague evokes once more the Czech national spirit and unity. The National Theatre became a project in the second half of the 19th century. Because of insufficient funds for its construction, money was collected from all social classes.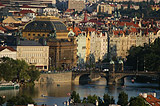 The foundation stone was placed in 1868, the historical date remembered as the beginning of this amazing edifice. Years passed and finally in 1881, the neo-Renaissance construction was opened for a first performance that took place in the honour of Crown Prince Rudolf.
On 12th August 1881, when the last details were being retouched, a fire broke out and destroyed much of the new building. The event was considered a national catastrophe, but Czechs didn't stand aside. They started a new campaign for the reconstruction of the National Theatre. Rich and poor contributed and the result was the amazing one million florins gathered in 47 days.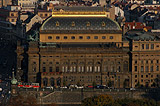 In charge of the project was this time architect Josef Schulz, who had the difficult task to unite three different buildings into one harmonious style. His work was successful and in the perfectly designed and equipped (electric lighting, a steel-constructed stage) new National Theatre opened its doors on 18th November 1883 with the performance of Smetana's opera Libuše, specially composed for this gala occasion.
The theatre served its purposes with loyalty for almost a century, when in 1977 was closed for reconstruction. Everything went precisely by the plan and the theatre opened its gates again exactly on its 100th anniversary. On 18th November 1983 Smetana's Libuše resounded again as the symbol of national devotion and unity.
The new glass building reminding the communist era in Prague may seem a little out of place, but in fact it is perfectly integrated in the cultural beauty of the great city. It now houses the administrative offices and main box office of the National Theatre.
Further information on the drama, ballet or opera performances taking place at the National Theatre and ticket-booking are available at the contacts listed below.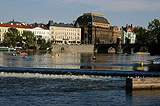 Address:
Národní 2, Prague 1 – New Town, 110 00
Phone:
Web:
How to get there:
Trams No 6, 9, 18, 19, 21 22, 23 (and night trams no 53, 57, 58, 59). The tram stop is called "Narodni Divadlo".
For more pictures see National Theatre photo gallery