Vrtba Garden or Vrtbovska Garden (Vrtbovka zahrada) is said to be one of the most beautiful and significant Baroque gardens in the central Europe. Still, it might be quite difficult to find it. It's hidden behind an unnoticable gate. The more you can surprised by the beauty it shelters.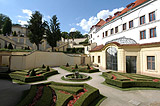 The garden is not so large but you can find there everything what you expect from precious Baroque garden – elegant staircases, decorated banisters, teraces, statues, flower beds, and hedges. The Vrtba Garden offers, according to many people, the best view of the St Nicholas Cathedral and its interesting architecture.
Vrtba Garden in Prague is beautiful in every season and is sought after by couples to be married there, by companies for special company events, for garden parties but also for theatre performances and art exhibitions. As a monument written on the prestigious UNESCO list, Vrtba Garden keeps its original look from the biggining of 18th century.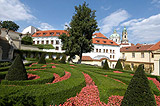 First thing you'll notice is a stately figure of Atlant holding a large globe on his shoulder. In the bottom of the garden, spreading in three teraces up the Petrin Hill, you'll find a small pool and sala terrena decorated with frescoes of Venus and Adonis by Riener. Another terace is accessible via two staircases creating together an image of a butterfly. The third terace is rich in many statues, stone vases with reliefs and a great view of the Lesser Town.
Address:
Karmelitská 25, Prague 1
How to get there:
Get off at the station Malostranska (metro green line or trams 12, 20, 22, 23). The entrance to the garden is through the gate no. 25 from Karmelitská street. The entrance is near the crossroads of Karmelitska street and Trziste street.
Opening hours:
The garden is open to the public from April to October. You can visit it every day from 10:00 to 18:00.
Entrance fee:
Adults 40 CZK, children and students 25 CZK, family 100 CZK.
For more picture see Vrtbovska Garden Photo Gallery