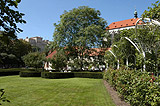 If you feel tired of the crowds in the centre of Prague, just a few steps away, between Wenceslas Square and Jungmannovo Square, you'll find picturesque Franciscan Garden, an oasis of calm. A set of benches, pretty flowerbeds and a children's corner make you forget that you're close to the busiest streets of Prague.
This lovely garden near the Church of Virgin Mary Snow was built in 1348 during the reconstruction of New Town. It used to belong to the Carmelites. The Frantiscans, who got the garden into their custody in 1604, grew flowers, trees and spices there. After the sack of the garden by Prague's scummy people, the monks rebuilt the garden and created a well, a monastery pharmacy and a fountain with decorative statues around it.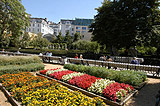 The Franciscans were displaced from this garden by the Communists in 1950 and soon after that Frantiscan garden became open to the public. After the reconstruction in 1989-92 a new gate with 16 plastic scenes of the life of St. Francis of Assisi was built at the entrance from Wenceslas Square.
Nowadays a small part of the garden belongs to the Franciscans again. Their property was given back to them after the revolution in 1989. On the bigger part, open to the public, you can see a folly with herbal beds around it. Several paths with benches alongside connect the three entrances. There are many trees and rose bushes there. Children can play on the nearby sandpit or on the see-saw. Adults can relax here and enjoy the green area in the centre of Prague.
How to get there:
You can enter Franciscan Garden from Jungmannovo Square, from the passages from Vodickova street or Wenceslas Square.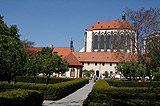 Franciscan garden is open daily (for free):
15th April – 14th September 7:00 – 22:00
15th September – 14th October 7:00 – 20:00
15th October – 14th April 8:00 – 19:00
For more pictures see Franciscan Garden photo gallery.