Kostel Panny Marie Vitezne – Prazske Jezulatko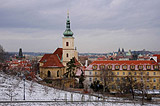 The history of this church is linked to the history of Prague itself. As it's exterior still evinces the fact that it belongs to the early Baroque structures. It was actually the first Baroque church in Prague, built by Giovanni Maria Filippi in 1613 for the German Lutherans. Originally, the church was called the church of the Holy Trinity.
After the battle of the White Mountain (1620, Bila Hora), the church was given to the Carmelites, as a sign of gratitude for their victory. The church was renamed and rebuilt to the form we see today. In 1628 Polyxena of Lobkovic donated the church a Spanish wax effigy representing the Infant Jesus.
It is said that the Infant Jesus of Prague (also knows as il Bambino di Praga) has miraculous curing powers and that it was the protector of the city against plague and the destruction in the 30 years war.
The church now contains an exhibition of the presents that the Infant of Jesus was given along the centuries from history's most famous personalities. The exhibition is comprised of about 80 different outfits, out of which the most valuable is a dress made and embroidered by Maria Teresa herself.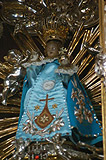 Phone: +420 257 533 646
Web: www.karmel.at
Opening hours:
June – September
Monday-Saturday
9.30am – 9pm
Sunday
1pm – 6pm
October – May
Monday – Saturday
9.30am – 5.30pm
Sunday
1pm – 5pm
How to get there:
Tram No. 22,12 to Malostranske namesti, south of St. Nicholas Cathedral
Cross Charles Bridge, go towards the Prague Castle and in Karmelinska Street (close to St. Nicholas Cathedral) you will find the Church of Our Lady Victorius.
For more pictures see Church of Our Lady Victorio photo gallery