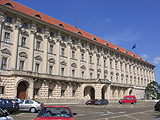 One of the most beautiful and most monumental Baroque palace in Prague, Czernin Palace (Cerninsky palac) is situated in Lorenske namesti near the Loreto. It belonged to the noble family Czernin of Chudenice, one of the oldest noble families in Bohemia. According to the legend the name Czernin might be derived from the word "cerny" (black). Black as the black fireplace where a small boy from a noble family was hidden while his whole family was murdered.
Czernin Palace was built by Italian architect Francesco Caratti in 1668. A big part of family funds was spent on building and decorating the palace. After finishing the palace it served as a famous picture gallery. Since then the palace has had its "ups and downs". It was looted by the French in 1742 and bombarded by the Prussian. The palace was also used as a shelter for poor people and as a barracks. On the other hand Jan Rudolf Czernin organized here a gala ball on the occasion of the coronation of Leopold II.
The most beautiful part of the palace are 30 massive Corinthian half-columns running the lenght of the upper storeys of the palace. The main hall of the palace is three floors high.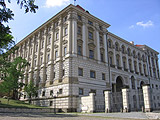 Czernin Palace is now the seat of Ministry of Foreign Affairs. It's visited by presidents, ministers of foreign affairs and other prominent people from all over the world. It's been the office of ministers of foreign affairs of the former Czechoslovakia and the Czech Republic.
Minister of foreign affairs, Jan Masaryk, the son of the Czechoslovakia's first President, Tomas Garrigue Masaryk, died as a result of a fall from the top-floor window of Czernin Palace. It happened after the Communist Coup in 1948. Nobody really knows whether it was a suicide or a murder.
Czernin Palace is open only on special occasions.
Address:
Loretanske namesti 5, Prague 1
How to get there:
Take trams no. 22 or 23 and take off at the Pohorelec stop. Then walk up the Loretanska street.
For more pictures see Czernin Palace Photo Gallery