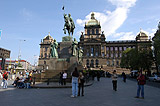 The imposing Neo-Renaissance building dominating the upper part of Wenceslas Square houses the National Museum, the largest museum in the Czech Republic. It hold a vast collection of exhibits documenting the richness of the nature, culture and history. It is the symbol of culture, science and education in the Czech Republic. The museum played an important role in the time of Czech National Revival and many people, significant in the Czech history, were in charge of it.
The museum itself was founded in 1818 but didn't have its own spaces for the collections which were quickly growing. The need of large spaces started to be inevitable. Finally a new building was constructed according the design of Josef Schulz, professor at the Czech Technical University in Prague, at the upper part of Wenceslas Square. It took five years to finish it. Many foremost artists were there to make the interior really exquisite. The building of the National Museum was finally inaugurated on 18th May 1891.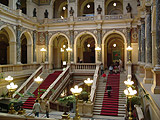 The decorations of the interior were finished in 1903. The entrance pillar hall is decorated with statues of Libuse, Přemysl the Ploughman (Premysl Orac), St Wenceslas and Premysl Otakar II by famous sculptor Ludwig Schwanthaler. Other statues by this famous sculptor are on a staircase in central wing of the building. The imposing staircase decorated by 16 paintings of Czech castles and other important places leads to the most exquisite hall of the museum, Pantheon. The Pantheon contains busts and statues of famous Czech scholars, writers and artists. A high cupola of glass crowns the roof. Four paintings on the walls represent four important events in the Czech history.
The building itself has suffered several damages. During the World War II the most valuable exhibits had to be moved into safer places in small villages. Two bombs were released on the National Museum during the WW II. One hit the central part of the museum, near the staircase. The other one hit a neighbouring house. The main face of the building was damaged by a Soviet machine-gun during the Warsaw Pact intervention in August 1968.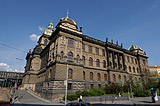 Many collections of the National Museum are placed in other buildings in Prague. In near future, a new building will be added to the National Museum. It's the building across the main road, the former seat of Parliament and current seat of the Radio Free Europe. These two buildings together will create a modern museum complex with conference halls, lecture rooms, labs, exhibition halls and restaurants.
See also the exhibitions of the National Museum in the section Museums.
For more pictures see National Museum Photo Gallery