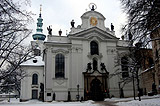 The Strahov Monastery (Strahovsky Klaster) started its long itinerary through history with establishment of the Premonstratensians, a religious order of canons founded in 1120 by St Norbert as an independent part of the Catholic church. By the year 1182 a Romanesque stone monastery was built on the place of an older foundation of Prince Vladislav II (from 1140). It's peace was disturbed by a fire in 1258, when the church was destructed almost totally. A reconstruction in the Gothic style followed, but that was not to last either, as Baroque retouches were added during the beginning of the 18th century. In the meanwhile the abbey was plundered first by the Hussites and during the Thirty Years' War by a regiment of the Swedish army. The last but not least hit that the abbey had to take was the bombardment of the church's premises by the French, in 1742. After the Communist regime ended, the abbey was returned to the Premonstratensians in 1989. The Strahov Monastery it is not only an active place of pilgrimage but also a valuable museum and a famous library, still holding an unbelievable number of rare volumes.
Places of interest in Strahov Monastery:
The Basilica of Our Lady, now dedicated to St. Norbert, the patron of Premonstratensians. The basilica is very beautifully decorated with frescoes by Neunhertz (1774), with the motif of the blessed Virgin Mary and scenes from the life of St. Norbert. Worth mentioning are also the altar of marble from Slivenec, the work of Lauermann from 1768, the sculptures by Ignác Platzer (1768) and the organ where Mozart played during his visit of the Strahov Monastery in 1787.
The Theological Hall, completed in 1679 under Abbot Jeroným Hirnhaim, It now stores more than 18,000 volumes. This hall's name comes from the fact that is contains numerous editions of the Bible or parts of the Bible in many languages.
The Cabinet of Curiosities, brought to Strahov from the estate of Karel Jan Erben in 1798. It now houses natural science collections, mainly with sea fauna, complemented with collections of insects, minerals, and wax replicas of fruit, archaeological collections: ceramics, handcuffs, Hussite peasant weapons. A very appreciated curiosity is the remains of a Dodo bird (Dodo ineptus), now extinct.
The Philosophical Hall, built in 1782, under Abbot Václav Mayer. It contains an impressive number of more than 42,000 volumes covering themes from philosophy, astronomy, mathematics, history, philology.


| | |
| --- | --- |
| Address: | Strahovske nadvori 1, Prague 1 |
| Open: | Tuesday – Sunday: 9.00 am – 12.00 pm |
| | 12:30 pm – 5.00 pm |
| Phone: | +420 233 107 722, 777 742 170 |
| Fax: | +420 233 107 752 |
| Web: | www.strahovskyklaster.cz |
| E-mail: | art.strahov@volny.cz |

How to get there: Trams No 22,23 to Pohořelec

Admission:
The Convent1:
Adults
CZK 20
Concessions
CZK 10
Strahov Gallery2:
Adults
CZK 60
Concessions
CZK 30

1The Convent: Cloister, Romanesque Halls from 12th cent., Chapter Hall, Winter Refectory
2Strahov Gallery: The collection of the Czech & European painting from Gothic to Romanticism + Convent