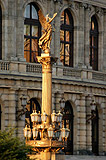 One of the most representative Neo-Renaissance buildings in Prague, the Rudolfinum, is definitely one point on your MUST SEE list. What's so special about it? Well, like the building of the National Museum in Wenceslas Square it's elegance simply can't go unnoticed.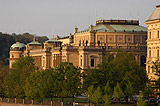 Are you impressed by the exterior? Then you should really take a look inside and visit the Gallery of Modern arts or go to a concert held in one of the Czech most luxurious concert halls, Dvorak Hall.
Some history never hurt anyone so, for those of you who would like to know who and when created this fine jewel of Prague here is some useful info:
Rudolfinum is the work of Josef Zitek and Josef Schultz and was constructed on the second half of the 19th century during the years 1876 – 1884 and named in honour of Crown Prince Rudolf of Hapsburg. It was originally designed as an art gallery and House of Artists and then in 1946 it became the seat of the Czech Philharmonic Orchestra.
From 1918 to 1938 and a short period after World War II (1945-1946) it also housed the Czechoslovak Parliament.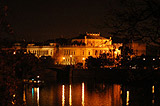 Nowadays Rudolfinum already famous halls house many of the concerts of the Prague Spring and Autumn Music Festivals and other events. Some of the Rudolfinum halls and the lobby can be rented for special receptions, concerts and social events.
For art lovers we also recommend a visit to The Rudolfinum Art Gallery and, why not, a visit of the building itself.
Opening hours:
Web:
Address:
Fax:
E-mail:
Getting there:
From "Straomestska" underground station (green A line) or " Staromestska" Tram
Station follow the signs saying "Rudolfinum"
From the Old Town Square go along Kaprova Str. And at it its end you will have on your right side the Rudolfinum.
For more pictures see Rudolfinum photo gallery